We talk to New York-based Khrystyna Fomenko about being a fashion illustrator.
Khrystyna is a New York-based fashion designer, art director and colour specialist. She grew up in Kyiv, Ukraine. She made the move to London to study fashion design at Central Saint Martins College. Through her work in fashion design, she's slowly gravitated into fashion illustration. It's her talent for drawing and imagining clothes in different ways that has pivoted her career, encouraged by those who work with her.
Khrystyna is the artist behind fashion sketching for les girls les boys collections. We love her work and want to share it with our community, so we documented our chat via Zoom recently.
We hope this conversation resonates with anyone finding their way in fashion, and any and all creative disciplines.
How did you make your way into fashion illustration?
I would illustrate the designs I'm working on, from my studies in fashion at university to the brands I've worked for since. People I was working with liked my drawings and started asking me more and more to illustrate for them. This is the very beginning for me in fashion illustration. I'm taking time to develop my style.
What's the process like working with someone who's created a design, and you as an illustrator being asked to bring it to life?
Luckily for me the illustration work I do is for people who have seen and liked my drawings. Part of the process is knowing what they want, what's important, then having the freedom to do it in whichever way I take from that. Having the freedom to work with people who want me to draw however I feel is great.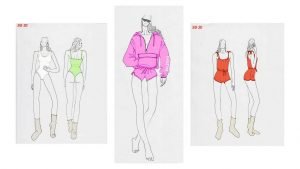 Was this the same approach when you were working with les girls les boys?
Yes. They're more sketches than illustrations. There wasn't any direction on the kind of illustration, I did it the way I felt and the way it made sense to me for the product I was working on.
What kind of clothes do you prefer to draw?
There's no strong preference with clothes, but I always like to draw the human figure. My style is not necessarily realistic, it's quite exaggerated. My drawings aren't exactly proportional in terms of an academic sketch of a person, but they capture something that you can feel… A mood or the feeling of the person. If I'm sketching up a line-up of designs, I like to do each drawing freehand so they all get slightly different poses. Even if I'm drawing the same character, I like to play with it, imagining what kind of mood and attitude they may have in that particular outfit and how they would pose. That's the part that's fun for me. I enjoy styling out these made-up characters.
How important is fashion illustration in the process of designing and making clothes?
There's a special energy in hand-drawn illustration. It communicates an emotion and mood that sometimes really helps to visualise the product. Some people don't need it, they can visualise the product just from flat garment drawings. But it adds this extra level of storytelling. During lockdown, a lot of fashion brands couldn't shoot content so illustration was something they began to improvise with. It's one option of visualising clothes.
What other creative outlets do you have?
I'm still looking to find a balance between work for clients and creativity outside of it. Since lockdown I've been trying to allow myself more time to slow down and to research and explore personal interests. With illustration work, I'm starting to explore full colour painting. My design sketches are usually not too detailed. They are fast, freehand and just capture the mood. But when I went into full colour I couldn't help to get more detailed, especially with faces. Now I'm working on practicing my painting to capture the product and express the character with minimal detail.
If you weren't working in fashion, what would you be doing?
I guess I haven't thought out a plan-b career…
What's your advice to anyone trying to get into fashion, or any creative industry, now?
Be true. I feel that integrity and clear communication are key. My advice is to sincerely assess one's strength, interests and goals. then consider what's the most suitable method to convey it all – be that a traditional portfolio or any other format or medium that feels right. One positive aspect of the current situation is that there's no longer a prescribed standard to present one's work. The industry is more receptive than ever to interpretation and innovation in communication.
Find Khrystyna on tumblr: kkokkok.com