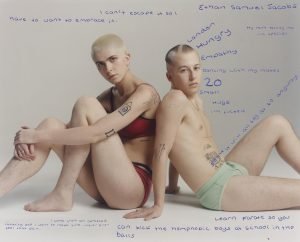 Age: 20
IG: @ethansamueljacobs
Where are you from? London.
Tell us about you. At the moment I'm focusing on choreography, working on a piece called "Yiddish Raving Rats" and a few other projects. I'm also movement directing for fashion and commercial jobs, then dancing and modelling too.
Being an individual means a lot to me because… I can't escape it so I have to want to embrace it.
Favourite word? Hungry.
Identity to me means… The journey of self development to become the purest, most wholesome and happiest version of yourself. It's a never ending process that benefits you and the people around you. Judaism and being queer are two huge parts of my identity I've recently been exploring.
My identity is important to me because… I come from an oppressed minority and I want to make sure I never ever feel that pain.
People sometimes say I am… Small.
But they don't know I am actually… Huge.
My best personality trait is… Empathy.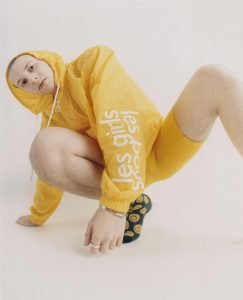 I express my identity through… My identity is used as a stimulus for all my work. It makes me able to connect with others which is a huge blessing. Not only people with things in common but the opposite too. When you're open about your identity others can be too. Loads of aspects of Judaism are super cool when you explore them and translate them into movement.
Being conscious of your identity means… Minorities are much more conscious of their identity because they have to be. But it can be taken to the extreme and actually become damaging. Like, what am I? Give yourself loads of space to explore and know that there is no final identity. It's ever evolving. You are so much more than whatever you think you are. It can be overwhelming to be in the unknown but you've got to learn to ride it.
I feel most confident when… I'm f**ked.
My confidence comes from… My mum telling me I'm special.
The best piece of advice about body confidence I've had is… It will all sag at 40 anyway.
A moment when I felt most confident… Dancing with my mates.
I overcome challenges to my identity through… Time, and support from friends and family. I'd be nothing without the people around me, and time gives you a perspective that nothing else can.
To help people be who they are, we need to… Connect, to know that other people feel the same. Massive shout out to @_mindurhead ran by Pierre and Fraser. Two queer icons who have supported myself and so many other queers into happiness and confidence. If you look into what they've been doing for the last few years you'll be inspired.
If I could tell my younger self one thing it would be… Learn karate so you can kick the homophobic boys at school in the balls.
Things I do to make myself feel confident… Face masks, restricted mirror usage and cute outfits.
I consciously nurture my identity by… I read quite a lot more than I used to. Not so much books but articles and other media. It's like a positive slippery slope once you start triggering your instinctive queries. I then use this knowledge to create and discuss.