A closer look at our most loved garment right now. Feminine-with-an-edge daisy lace intimates that give a modern wink to the past.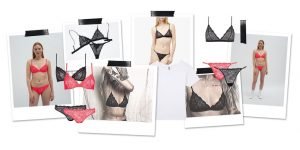 What is it? In-house designed daisy lace for intimates. A modern wink to the past, inspired by 1960s florals and kitchen sink dramas. Think Cathy Come Home everyday glamour, but with French girl ease. It's currently available in black, neon rogue, and khaki.
What's to love? Lace and underwired bras can be associated with itchiness and discomfort, but our daisy lace is designed with a soft barely-there feel. We love the underwired bra for it's three-part cup which gives the feminine lace a structural edge, and how that contradicts and works beautifully with the scalloped trim. And then there's the versatile triangle bra that's elegant and dainty under a sheer blouse or under a summer dress, and rock 'n' roll when paired with jeans, a distressed T-shirt and a leather jacket. We play around seasonally with colours. Right now our favourites are black, classic and sexy, and our neon rouge, alive with summer fun. Both colours compliment all skin tones.
Where to wear it? Its simple and cool shape makes it work for all outfits and occasions. It's sexy enough to show off but also just as special to keep to yourself under off-duty clothing.
How to style it? What's so cool about daisy lace is that you can style it in so many ways. It's an everyday luxury, loaded with versatile connotations, with the power to make you feel differently however you choose to wear it: under an opaque, loose, white T-shirt, the scalloped edge peeking out under a scooped neckline, or a sexy but chic layer under your sheers or meshes. You can treat it solely as underwear, or wear it as a feature by exposing the neon strap or trim.