A closer look at our most loved garment right now. Introducing a versatile layering staple and canvas for customisation: the silky-feel nylon pac-a-mac.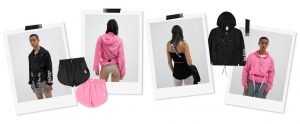 What is it? Lightweight nylon pac-a-mac hoodie in fresh bubble gum pink, classic black, daffodil yellow, and neon red. Folds into its kangaroo front pocket, transforming into a compact belted bag. Matching shorts available (and discount when you buy as a set).
What's to love? One of the coolest and most versatile styling pieces we've dreamed up, this new-normal wardrobe staple is a go-to layering piece, an accessory, and canvas for customisation. It has a dreamy, silky silicone texture that you won't be able to stop touching. Where to wear it? It's perfect for a light cover up in the summer. We definitely can't get enough of this one.
How to style it? Over the seasons, we matched this item with expressive badges and patches we've fallen in love with. Either buy new, rummage and go vintage, or get experimental and make them yourself – we vouch for this as a way to personalise garments, adding your unique individuality to what you're wearing. We covered the elastic strap in badges, letting them hang out of the pocket or when the mac is packed away in the bag and worn as an accessory.
Play around with layering to switch up the vibe of an outfit and to experiment with combining texture and colour to create fresh looks. We've used the pac-a-mac as an outer garment, over a complimentary colour hoodie, and even underneath a crew neck and t-shirt with the hood exposed to turn a conventional outfit inside out. It speaks to our playfulness here at les girls les boys. Take away the ideas of outwear for outside, pyjamas for bed, and swimwear for beach, and you can really start to have fun with your wardrobe.