A closer look at our most loved garment right now: a sheer, geometric lace resembling snake skin.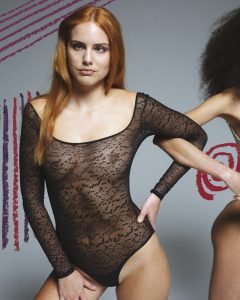 What is it? Sheer, geometric lace resembling snake skin. We've used it for bras, briefs, and a bodysuit. Over the seasons we've experimented with different colours of the snake lace, but black and dusty pink have remained key continuity styles as popularity proves them to be timeless.
What's to love? The versatility. Particularly with our long sleeve bodysuit. It can be luxurious and sexy when worn alone, or dressed up, or it can be a casual, everyday piece to pop to the supermarket in. It's comfy, breathable, and season-less.
Where to wear it? Anywhere, for any occasion, depending on how you dress it. The long sleeves of the bodysuit transform it from undergarment to an everyday piece.
How to style it? We like mixing and matching our sets, and snake lace is perfect for this. Try layering sporty briefs under your lacy set. If you pull all your underwear sets out of your drawer, and start to combine different textures, colours and shapes, we guarantee you'll end up with some fun, unexpected looks. Underwear is just as versatile as clothes – you just need to get creative.
We love wearing these under jeans and a T-shirt to still feel glamorous. With the bodysuit, you can style this up or down depending on where you're going and what you're doing. Opt for wearing it with denim shorts and a cute bra underneath during summer, or dress it down with track pants in the colder months. Below, we've paired it with our black ultimate comfort set – you could wear the underwear either underneath or over the top. The joggers help to dress down the look. Check out our last most loved: the silky-feel nylon pac-a-mac.