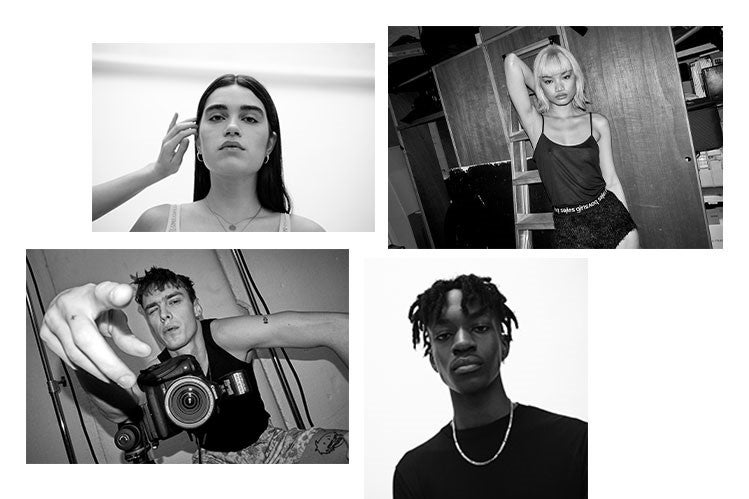 les girls, les boys is...
"We founded les girls les boys for minds and bodies of all ages to celebrate boundaryless connections"
Our Story
We founded les girls les boys for minds and bodies of all ages to celebrate boundaryless connections.
We are a shareable label. We believe only you should choose what, who or how you are. It doesn't matter to us, and it shouldn't matter to anyone else either. Les girls one day, les boys the next. Les boys up top, les girls down below.
Our bed to streetwear celebrates the fluidity of love and friendship, cross cultural mind-sets and diverse identities. Our collections are a revolving turntable of people and clothes and layers. They're an attitude, a feeling, and a belief that being who you are is enough.
We don't care about labels or definitions. They are irrelevant. What's relevant is you, us, our communities, and the global collective of thought and feeling. les girls les boys seeks to build a community that harnesses this collective power and creative potential to galvanise changing attitudes into bold ideas and newfound freedoms.
It's time for a shift. There are no rules here. Play around with it, find what feels good, and go with it.
Welcome to the new normals.
bed to street. repeat.
We're looking at apparel differently. From bed, to street, our lives blur from one to the other in a subtle layering of clothes, accessories, attitudes, and styles. Day turns to night, turns to friends, turns to play, turns to work, turns to home, turns to new places rich with possibilities.
We share items with friends, lovers, companions, and blur the edges of defined concepts or coding.
At the centre of our bed to street ethos is comfort and durability, paired with self assured individuality.
next-level quality apparel
We create quality garments that stand the test of time.
80% of our fabrics are bespoke, and chosen based on the end-use for each item. They don't exist anywhere, so we imagine them, then make them. If the jersey we source is too scratchy, we make a bespoke blend based on what we need - that soft comfort feel - by adding different fibres and stonewashing. We've made satin stretch, and added megawatt comfort paired with a high-shine, luxe finish. All with the richness of colour, and the durability of being able to wash at 40 degrees. To make this possible, we communicate with our factory, who communicate it to a mill, and then to yarn manufacturers. The design of a garment takes 10% of our efforts, the rest of our energy is channeled into development and fit for every single piece we create.
The simple functionality of a micro-fibre bonded bra clasp, the super-soft, lightweight T-shirt versus its 200 gram heavyweight counterpart. Artful embroidery, tactile textures, cocooned zips, and the breathable and natural antimicrobial bamboo fibres of our underwear. They are all the joys of les girls les boys.
We know our sourcing routes, and the excellence and care from the places our garments are made. We've chosen them to ensure we meet both industry, and our own, standards that we're proud to stand by.
Quality shouldn't impact the price point, but it does. We work to the highest cost price, not the lowest, so you pay the fairest price for our garments. We are constantly working on improving our quality and affordability.
We are mindful in making clothes, and we want you to be mindful in caring for them, too.
Find out more about garment-care and our factories.
democratic design
Our design process is resolutely democratic. We design everything for a reason, a real reason. We're not influenced by here-today-gone-tomorrow trends. We're inspired by a global community of changemakers, of bold progressive voices, exciting new stories, full hearts, open minds and endless spheres of kinetic digital imagery.
We've added a masculine edge to lace, giving it strength, as well as reworking it to form graphic shapes and lines elsewhere in our collections. Our subtle sheer refuses to conform and our seamfree zero-waste underwear is a low-fi comfort counter-movement.
The innocence of jersey and cotton sit alongside super stretch bodysuits that hold you for low impact workouts and high impact lounging.
We're re-thinking neutrals. Khaki, soft pinks, and animal prints know no gender. Super-soft fabrics, perfect-fit joggers, and the new, true, classics.
Each item is connected to another. That's why our collections blur, bringing elements from the previous collection into our new releases, just as our feelings and thoughts blend collectively to form new meanings and ideas.
Our free-thinking design lets you choose what each item is for.
Shop the most recent collection.

responsibility
As a voice on your feed, label in your wardrobe, employer, and maker of clothes - we take our responsibilities seriously.
We're committed to affecting positive change in our sphere of influence, and beyond. From the fabrics we choose, the partners we work with, and the way we do business. And to help you do the same, too.
Find out about our responsibility commitments.
Serena Rees MBE - founder and creative director
"I founded Agent Provocateur in the 90s to make a statement about not being afraid of your own sexuality. I wanted people to own their sexuality, and do with it what they wanted. It was about control, and being conscious of your own innate power. Essentially, it was all about being you. Since then I've taken time, I've watched, and I've listened.
We're living, working, and functioning in a very different way today, and what was right then is not right now. We need the same message, but reworked for right now. This is how and where les girls les boys began in my mind.
les girls les boys is a rallying cry. Inspired by our connected lives and all the good that comes from it, and at the same time a bold defiance against the unattainable images we view there.
Our message is: love yourself, love your body and shape, love your identity, whatever that is, and share that love with the world."